Affiliate Disclosure: We may earn commissions from purchases made through links in this post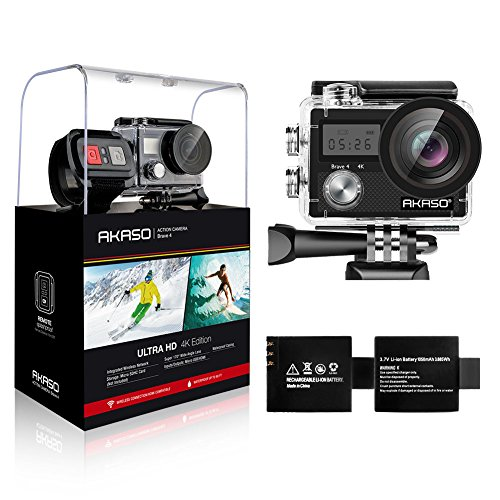 AKASO Brave 4 4K 20MP WiFi Action Camera Ultra HD with EIS 30m Underwater Camera
DESCRIPTION
AKASO Brave 4 4K Action Camera Specifications: Adjustable view angle/ Waterproof Case/ Remote Control/ WiFi Control/ Loop Recording/ Time Lapse/ Sound Record/ WDR/ Diving Mode/ Motion Detection/ Anti-Shaking/ Car DVR Mode/ Burst Photo/ Micro USB port/HDMI/Max 5x zoom Recording Time: Each battery for 1080P/About 90 mins, 4K/2K/About 60 mins. Warm Tip: Please format the card (not included) in the camera or FAT32 format in your computer before using the camera. Insert the SD card–go to setting–Format Recommend to use max 64gb U3 micro sd card. What's in the Box: 1x AKASO Brave 4 Camera/ 1x 2.4G Remote Control/ 2x 1050mAh Battery/ 1x Waterproof Case/ 1x Bicycle Stand/ 7x Mount/ 2x Clip/ 1x Helmet Mounts/ 1x Bandages/ 5x Tethers/ 1x Protective Backdoor/ 1x USB Cable/ 1x Quick Reference Guide Capture Every Moments of Your Life ?AKASO Brave 4 action camera features ultra HD 4K 24fps & 2K 30fps video recording, 20MP. It's an amazing gift for your friends and family even yourself. Perfect for outdoor sports and underwater sports like cycling, motorcycling, skiing, diving, surfing, snorkeling and so on. Smart Gyroscope for Anti-shaking Built-in electronic image stabilization, turn gyroscope on when shooting video to make your video much more smooth. Turn anti-shaking on when taking picture to make your picture more clear. Edit and Share Video Instantly Easily open the camera wifi and connect it with your mobile or tablet by Camking app. It allows you to monitor in real time, review videos/photos on mobile and instantly share on social media. What's more, connect this camera to your computer with a USB cable to transfer your entire files, or simply hook up the sports cam directly to your TV via HDMI. Enjoy yourself in the Amazing Underwater World With solid waterproof case, this underwater camcorder allows diving up to 30 meters under water. Open the diving mode setting, it can filter the red light under water. No More Budgets on batteries And Mounting Accessories Comes with 2 rechargeable 1050mAh batteries. Each battery can record up to 90 minutes. Along with accessories kit which are compatible with most of cameras even Gopro.
Check-Out Now! Click the Pay Now button at the top of this listing to immediately proceed with our checkout and payment process. Please note that the Pay Now button is ONLY available after winning an auction or completing a Buy It Now purchase.

Check-Out Later? If you do not choose to Check-Out now, you will be notified by eBay via e-mail that you are the winning bidder. There is no need to contact us to arrange payment. We will automatically send you an e-mail within three hours of an auction closing. Our message will contain a link to our simple and secure checkout system, where you will be able to quickly and conveniently pay for your purchase.

You may also continue purchasing additional items from our auctions or eBay store. You have 3 days from the end of the first purchase to add additional items to your order. Make sure all of your auctions have ended prior to checking out. All of your purchases will be consolidated into one checkout!
We accept the following forms of payment.
Visa
Master Card
American Express
Discover Sales Tax
For shipments to NY addresses, we are required by State law to collect 8.375% Sales Tax.
Shipping prices are for the lower 48 states, other states including AK, HI and PR is additional.

Shipping price for international customers are calculated based on your address.

Please note: International shipments have a duties and taxes charged by your country's customs, we are not responsible for any charges.

Payments received after 12:00 pm EST is not guaranteed to ship the same day.
Based in United States, unlimitedcellular has been an eBay member since Jan 19, 2001
We provide high quality products with great pricing. How do we do it? We have access to the world of closeout merchandise, company surplus, overstocked and excess inventory. We are able to offer new, packaged products at discounted prices for our bargain-seeking customers. Our products are NOT refurbished, unless it states in the product description. We offer over 25,000 items on our site and have something for everyone. For all your hard to find accessories, Unlimited Cellular is the perfect place for your needs.
See more at:
https://www.unlimitedcellular.com/About-Us_ep_7.html#sthash.zbvPMNBa.dpuf
AKASO Brave 4 4K 20MP WiFi Action Camera Ultra HD with EIS 30m Underwater Camera
More Action Sports Cameras To Choose From